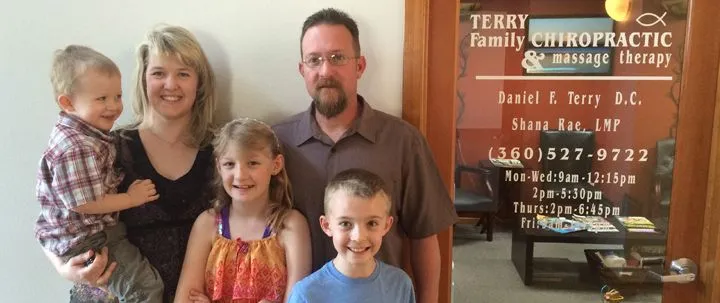 Dr. Daniel Terry earned his undergraduate BS or Pre-Med degree from Bryan College in Dayton, Tennessee in 1993. From there, he enrolled in the Chiropractic program at LIFE University in Atlanta, Georgia and earned his Doctorate in Chiropractic in 1998. In 2000, he moved to Washington state and received his license to practice.
Dr. Terry has been practicing Chiropractic in Whatcom county in Washington for 18 years, mainly focusing on Drop Table adjustments. He is certified in Thompson technique, Pierce cervical drop, and for 13 years he has focused on extremity adjustments, specifically the work of Dr. Dan McClure and Dr. Kevin Heron. His technique continues to develop and evolve as he has attended 24 hours of extremity adjusting seminars per year for the last 13 years. He has developed an advanced dynamic drop table technique that incorporates the extremity adjustments and sacral or occipital work.
He currently lives with his wife of 17 years and their three children. They also share their home with 1 cat, 1 bearded dragon, several fish and some pet crickets.